About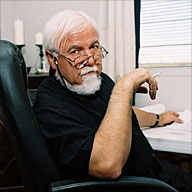 Milosav Cekic is a former town architect in his hometown in Yugoslavia, a Fulbright Scholar, Adjunct Lecturer with the School of Architecture at UT Austin, and former chairman of the Austin Design Commission. Through his European heritage, extensive travel and substantial design and construction experience, as well as his work on the Design Commission, first as a member and then as chair for five years, Milosav has gained critical insights in dealing with a variety of projects in both urban and suburban or park settings with varying natural and economic circumstances.
Milosav has been recognized as one of the top urban designers in the country and has won numerous awards. He was a member of the National AIA Committee on Urban design in the 1990s, was a Council-appointed member of the Citizens Planning Committee and the Design Commission in Austin, which he chaired for five years. In 1987 he was a design team member on Andres Duany's first urban design charrette for the town of Friday Mountain near Austin.
In 1988 Milosav won the national competition for the first Cancer Survivors Park in Kansas City, MO. In the following six years he has worked with the Bloch Cancer Foundation (Created by H&R Block) to design eleven and build six parks across the US, from Cleveland to New Orleans, in both urban and garden settings. Each park is designed as a unique setting for contemplation and inspiration and with powerful metaphors aimed at restoring our confidence in the powers of the mind in the healing process.
As an architect, he has served for more than 20 years as lead architect for retailer SAS Shoe Company of San Antonio. Over the years, he has also worked on a number of architectural projects varying in size, location and type. His projects range from large scale mixed use buildings to traditionally inspired bed and breakfast compounds in historically sensitive settings. He has also written articles on architecture for the Texas Architect, Landscape Architecture, and Progressive Architecture magazines.
Mr. Cekic is licensed in both architecture and planning. Working on projects of sometimes vastly different scales and concerns has given him a unique perspective about the reality of urban solutions and the character and quality of the actual physical space they create. The connection he makes between urban design and architecture has further enabled him to develop practical yet poetic insights into how to translate master plans into functional and humanly scaled environments.
One of Milosav's special interests is sustainable and eco-balance based design. He is aware that long-term concerns are at the same time large-scale concerns and is able to distinguish between systemic and local solutions. His understanding that lost sustainable design opportunities on a large scale cannot be reclaimed on the building design scale has enabled him to create urban design solutions that capture the value of both. Over the last several years, he has been working with Center for Maximum Potential Building Systems (CMPBS) in Austin on extending the Transect planning to cover sustainable design issues. Milosav is also the Architect of Record for CMPBS.